If you're missing one or more teeth, you are definitely not alone. The American Dental Association reports that the average adult between 20 and 64 years old has three decayed or missing teeth.
Fortunately, you have many options for replacing these missing teeth, including dental bridges.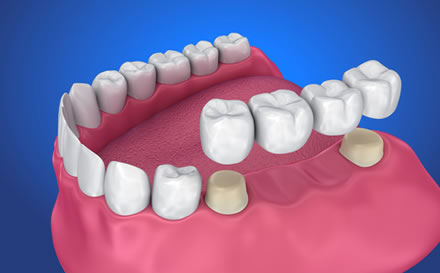 A dental bridge uses your natural teeth as anchors for crowns that are glued together to replace missing teeth.
A bridge can replace one tooth or several. It is a permanent restoration that is fixed in your mouth and is a great alternative to implants or removable partial dentures.
How to Know When You Need a Dental Bridge
The main reason you would need to get a dental bridge is if you have one or more missing teeth.
A dental bridge can restore the look of your smile by replacing the missing tooth with one that can look as natural as the original.
It is never a good idea to postpone dealing with a missing tooth.
If the gap where your tooth was is not filled in, eventually, the surrounding teeth will start to move into that space, often causing further bite problems.
What Are the Benefits of Dental Bridges?
Restore your smile

Maintain the shape of your face

Restore the ability to chew food and talk normally

Help distribute the forces in your bite by replacing missing teeth

Prevent remaining teeth from drifting out of position
What is Involved in Getting a Dental Bridge?
Fitting you with a dental bridge usually requires two visits to our office, sometimes more. At the first visit, we will prepare your teeth and then set them up with temporary crowns. On your second visit, we'll place the bridge.
Usually bridges last five to seven years. Keeping up with your home oral care is really important when you have a bridge.
One reason they  fail is that cavities develop on the teeth that support the bridge. There is special threader floss that allows you to get in under the bridge. If you are consistent in flossing under your  bridge, it will definitely last longer.
Schedule Your Appointment Now
At Sloan's Lake Dental we offer a number options for missing teeth, including dental bridges. If you have a missing tooth or several missing teeth, don't put off getting them fixed.
We have a number of payment options, including our dental discount plan called the Dental Advantage Plan. Financing is also available through Care Credit.
Contact us today and get your smile back again!