SMILE, we are making Dental Implants affordable for you!
Get the smile you've always wanted! Financing options available.
What is a Dental Implant?
Dental implants are used to replace missing teeth. They are often the best solution for replacing teeth because they provide long-lasting, natural feeling results.
An implant is composed of two parts: One is the fabricated titanium component  that takes the place of the missing root, and the second part is the crown that is placed on top of the titanium implant. This restoration is typically tooth colored, it looks and feels like a natural tooth.
Dental implants can either be used to replace a single missing tooth or several lost teeth. In addition to replacing teeth, dental implants also help preserve facial structure. Often bone deterioration occurs when teeth are missing.
What are the Benefits of Dental Implants Over Dentures or Dental Bridges?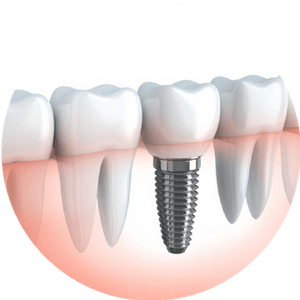 Highly Reliable
Clinical studies indicate that dental implant treatment has a success rate well over 95%.
Long Lasting
Dental implants are durable and will last many years. With attentive care, they will likely last a lifetime. Removable dentures and bridges often need replacing every seven to ten years. A dental implant can never get a cavity.
Conservative
Dental implants don't require the alteration of surrounding teeth, while  tooth-supported bridges do. More of your natural teeth are left intact, which improves long-term oral health.
Preserve Bone
When teeth are removed or lost, the bone that previously supported them often begins to deteriorate. Dental implants function like natural tooth roots and keep the bone healthy. Bridges and dentures do not preserve bone.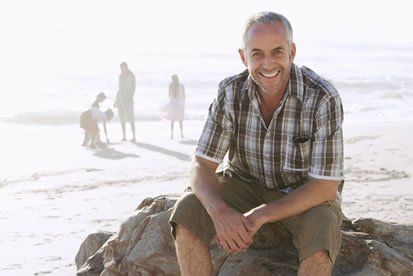 Am I a Candidate for Dental Implants?
According to the American Association of Oral and Maxillofacial Surgeons, 69% of adults ages 35 to 44 have lost at least one permanent tooth to tooth decay, an accident, gum disease, or a failed root canal.  26% of adults will have lost all of their permanent teeth by age 74..
Most adults who are missing one or more teeth are good candidates for dental implants. You will need to have enough bone structure to accommodate the implants.
The good news is, even if you don't have enough bone, our doctors are trained in advanced procedures like bone grafting, bone densification and bone manipulation. These are ways to improve the quality and quantity of bone that you have.
The Implant Process:
Assessment and Treatment Planning Appointment
At Dentistry of Colorado, we start with an initial consultation. We will take X-ray and do a complete exam, in order to see if you are a good candidate for dental implants. Depending on the complexity of your case we will also prepare computerized models of your mouth and teeth. We will discuss all of your option with you and prepare a written treatment plan detailing the sequence of treatment and associated costs.
Implant placement Appointment
Dental implant placement is a relatively simple procedure performed with local anesthesia. However, oral and IV sedation are available to offer maximum patient comfort. In most cases we can place a dental implant the same-day a tooth is removed. This means only one surgery, less cost and less time without a tooth.
Integration
Dental implants take three to six months to integrate, integration means your bone fuses to the implant. During this time, temporary tooth replacements can be provided.
Restorative Appointment
Once the healing process is complete, we will fabricate a custom crown that will go on top of the implant. This will look and feel just like a real tooth.
Maintenance
After care is important. You will want to regularly and thoroughly clean your new implants.  Regular visits back to our office are essential so that we can monitor the health of the soft tissue, bone levels and the integrity of the implant. Flossing your implant daily is one of the most important ways to keep it clean and keep bone levels healthy.
Our Approach
Our dentists offer the latest in state-of-the-art implant dentistry. They pride themselves on performing minimally invasive implant treatments, which decrease discomfort, improve healing time and minimize risks to the patients. Through extensive training and experience, they are able to treat the most complex cases with a less invasive approach.
Whether you have one missing tooth or several that need to be replaced, we have a suite of options to restore your mouth back to a beautiful, natural, healthy smile. If you're apprehensive about dental surgery, we offer all levels of sedation, ranging from oral conscious sedation to IV Sedation.
Schedule Your Free Consultation
Contact us today to schedule your complimentary consultation.