A dental care financing credit card designed for you and your family's dental needs.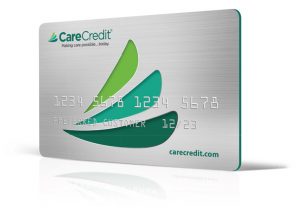 CareCredit is a convenient way to pay for the costs of most dental treatments and procedures, allowing you to make monthly payments at little to no extra cost when paid on time.
Enroll today and get the care you need!
Benefits
Little to No Cost – Choose shorter term dental financing options of 6, 12, 18 or 24 months and zero interest is charged on purchases of $200 or more when you make the minimum monthly payments and pay the full amount due by the end of the option period. Interest accrues during the promotional period but will not be charged if you pay your balance in full by the end of the promotional period.
Longer Terms Available –  Financing options of 24, 36, 48 and 60 months are available for larger purchase amounts ($1,000 or more for a 24, 36 and 48 month options and $2,500 or more for a 60 month plan), letting you make monthly payments with a an interest rate that is comparable to or less than most major credit cards over the duration of your promotional period.
No Expiration Date – As long as you are in good standing with CareCredit and you have available credit, you can use your CareCredit dentalcare card for repeated visits at any Dentistry of Colorado location.
How To Enroll
If you need an appointment to see one of our dentists, if have questions about your treatment, or if you need more information on how a CreditCare card works, contact us now.
If you have already had an exam and your Sloan's Lake dentist has provided you a written treatment plan, you can conveniently sign up on the CareCredit website.
Important: Use of CareCredit is subject to credit approval.  Make sure that you read the complete details found in the CareCredit account agreement.